Mitzi Math
Some light math and answers to all your lighting Q's 😊
Kitchen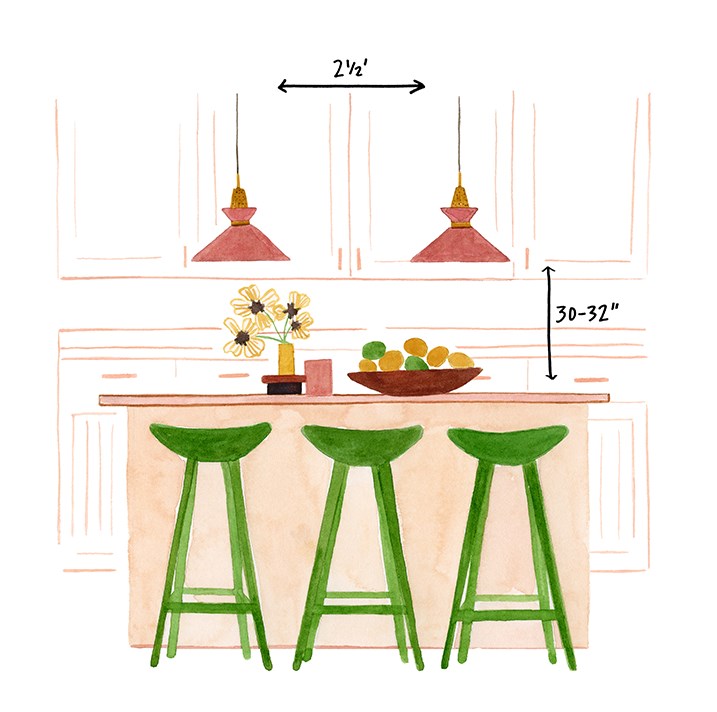 How high and how far apart should I hang my island pendants?
Leave about 30–32" from the island countertop to the bottom of your fixture, and space each pendant about 2.5-feet apart.
What if I want to use a linear light?
For linear island lights, go with a fixture with a length that does not exceed ²/³ of the island. For a very long island, consider two linear lights if your electrical situation allows it.
Bathroom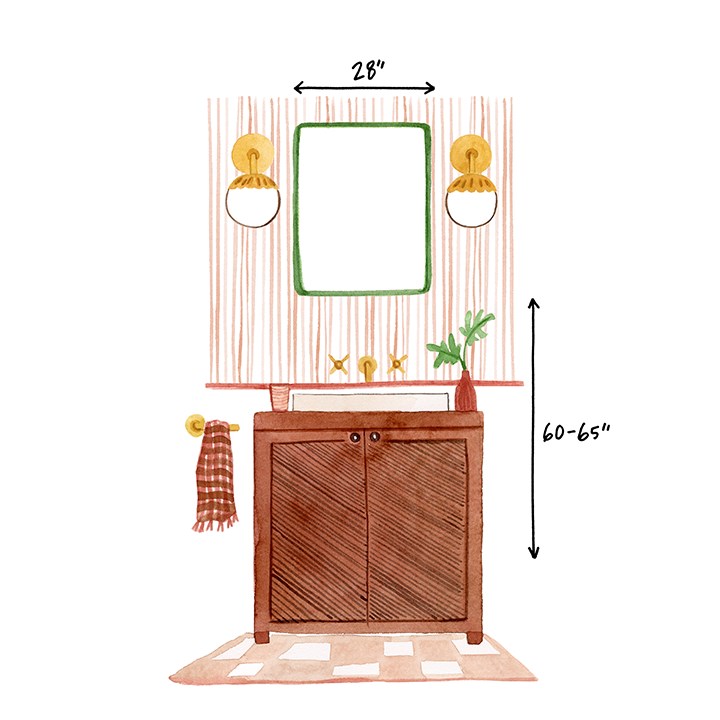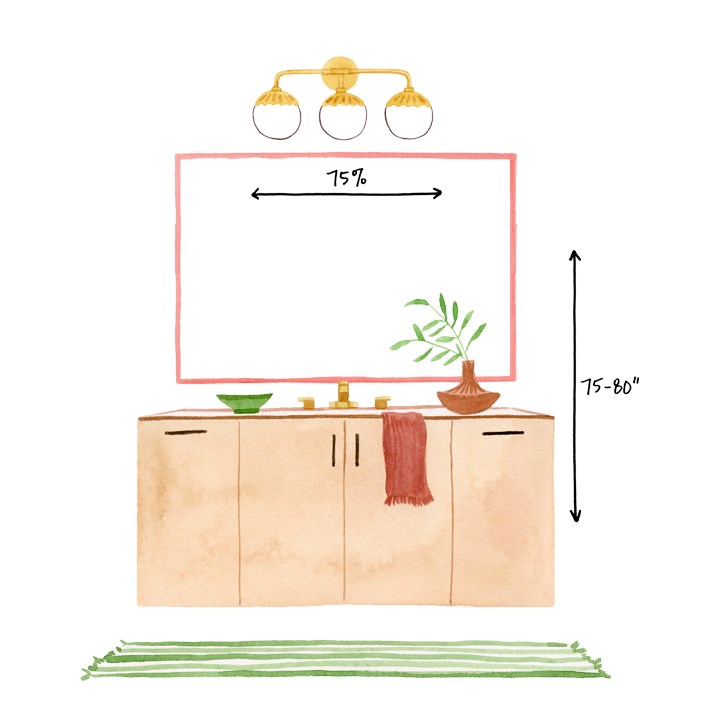 How far apart should I place my sconces beside my mirror?
Side mounted sconces should be about 28" apart. If your mirror is centered above the sink, mount fixtures just a few inches to the left and right of the mirror—as close to your face as possible.
How high should I mount my sconces?
For side-mounting, about 60–65" of space between the floor and the midpoint of the sconce backplate. For a bath bar, about 75-80".
How long should my bath bar be?
The width of the fixture should be approximately 75% of the mirror's width.
Bedroom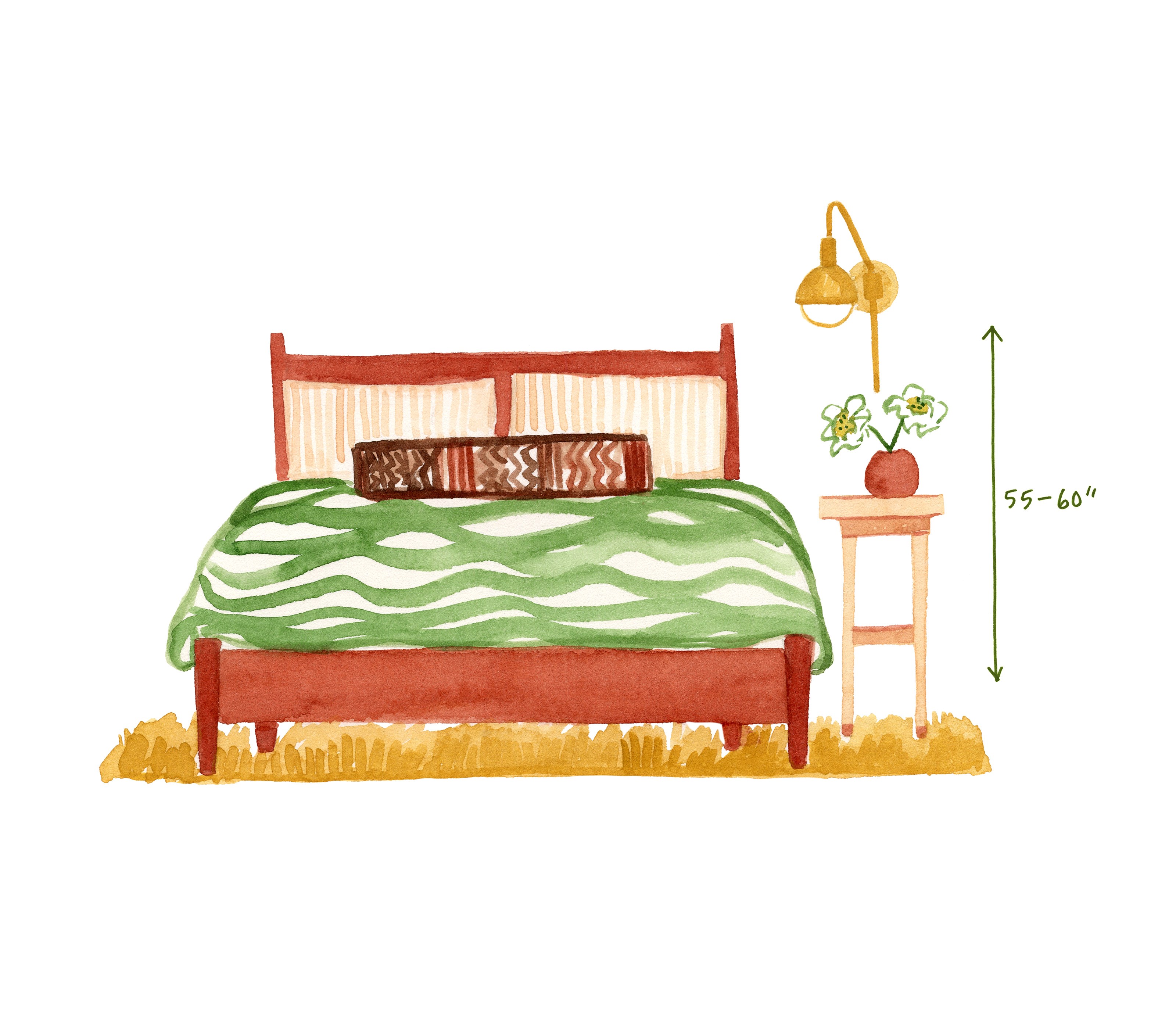 Where do I put my bedside lamps?
Table lamps should be placed so the bottom of the shade sits about 42" off the floor. Always consider the lamp's size in proportion to the piece of furniture it will live on.
What about beside pendants, or sconces?
Hang pendants so that the shade is about even with the side of your head or slightly higher from an upright seated position. Pendants used to replace portable lamps should be hung approximately 42" above the floor. For bedside sconces, between 55-60" of space from floor to top of sconce is ideal. For sconces with a switch or an adjustable arm, keep within arm's reach from a sitting position so you can easily turn it on and off.
Living Room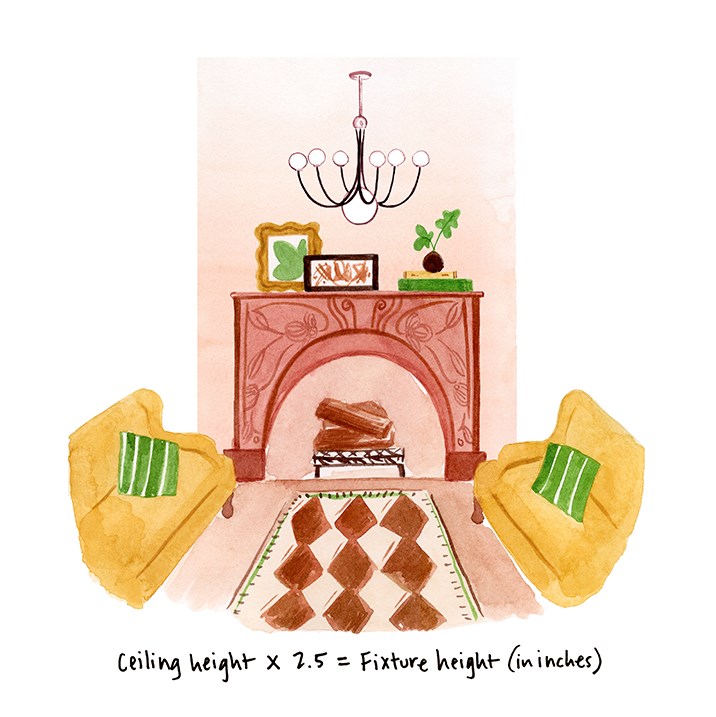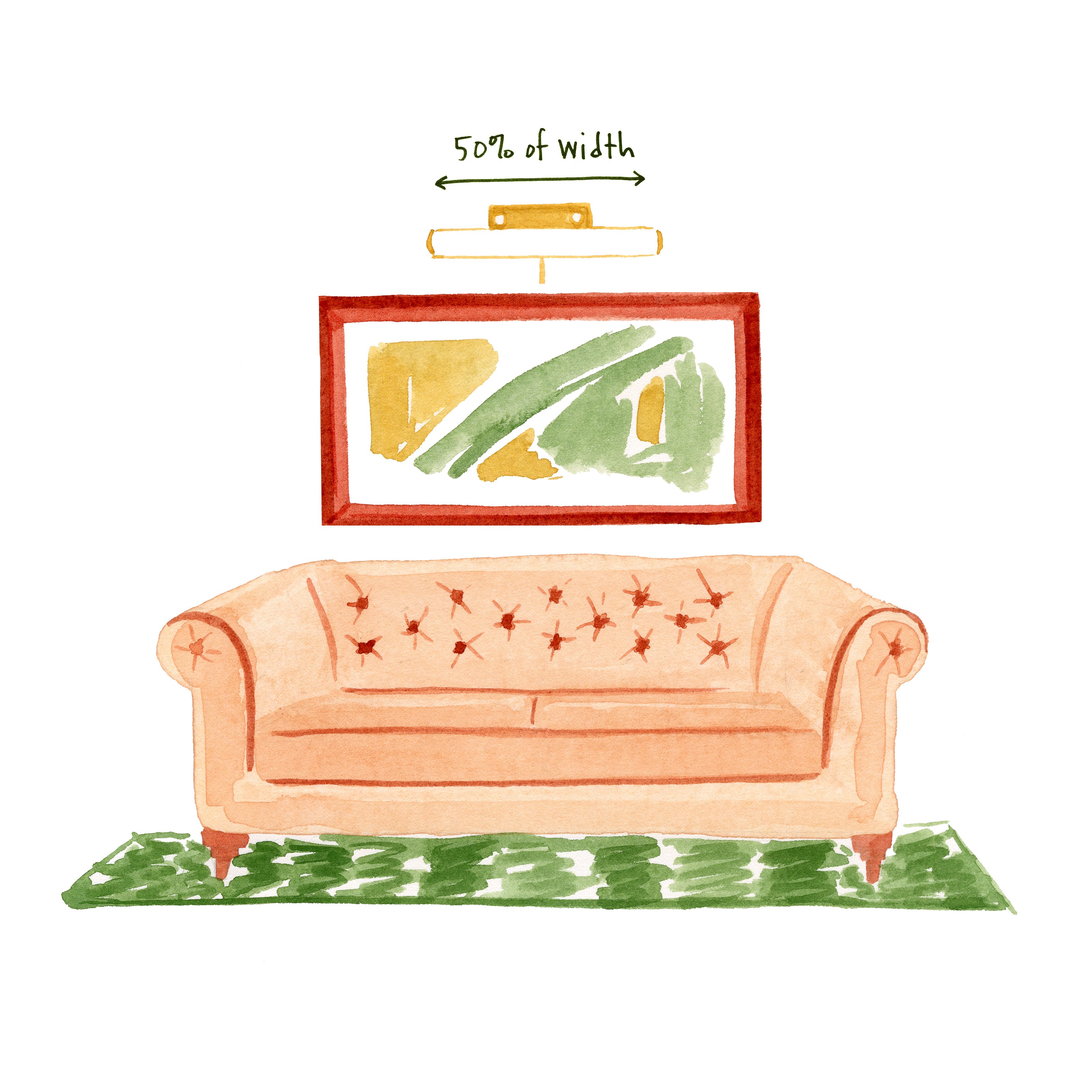 What size chandelier do I need?
Multiply ceiling height by 2.5–3 to get suggested height for fixture. An 8' ceiling calls for a chandelier height of 20–24". For diameter, add the room's dimensions and convert sum to inches. A 12' x 12' room indicates a chandelier with a 24" diameter would work.
What about picture lights for my gallery wall and family photos?
When used for art, tilt picture lights at a 30° tilt. To pick the right size light, measure the width of the frame, then select a fixture the width of which is about half that, e.g., if 8–14" wide, use a 4.5" light. If more than 30" wide, use a 30" light.
Dining Room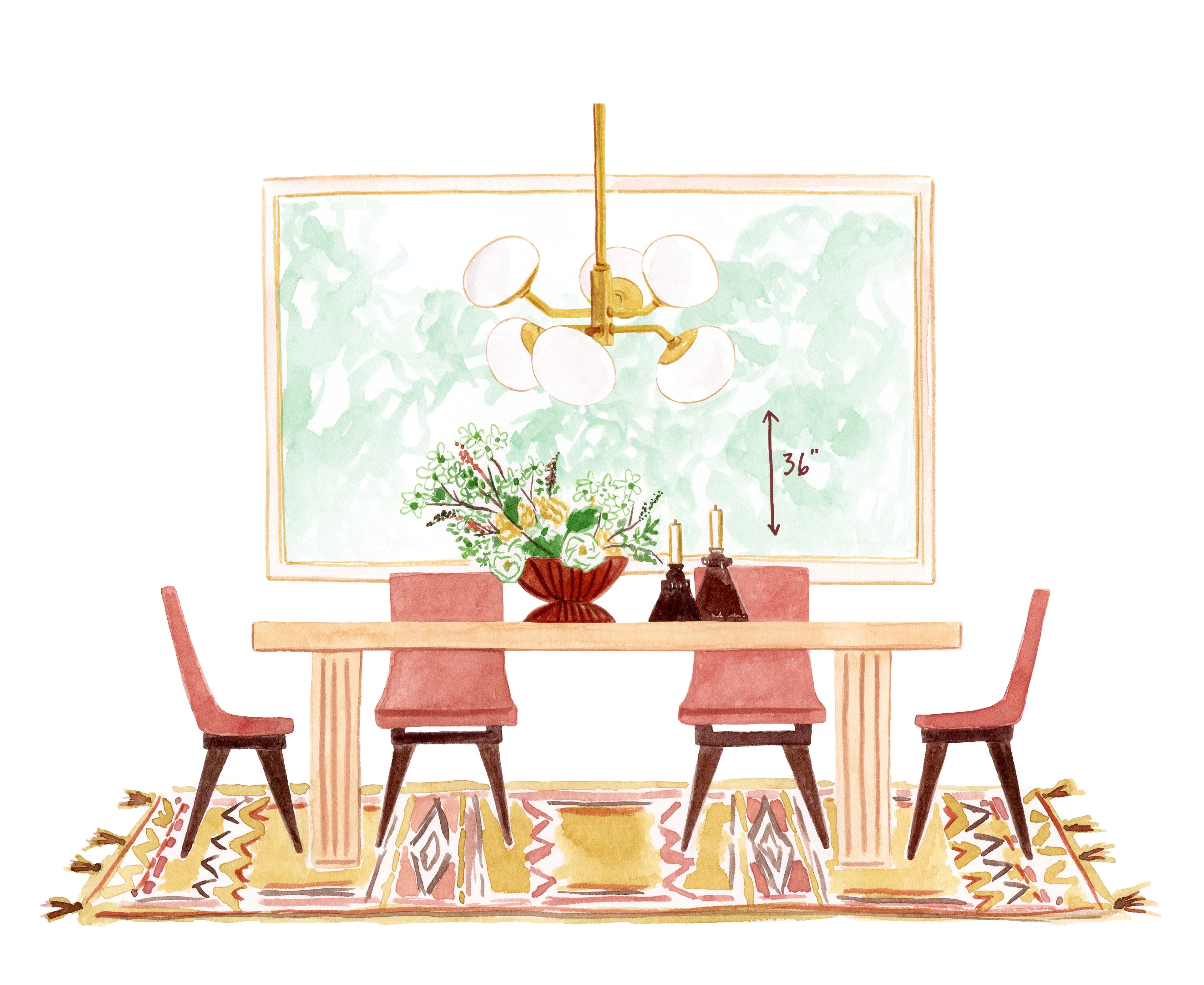 How big should the chandelier over my dining room table be?
Keep 36" between the table and the fixture's lowest-hanging point. For round tables, compare the diameters of the table and the fixture, aiming to keep the fixture 12–18" back from the table's edge. For a rectangular table, the ideal width is 6" less than all edges of the table.
Entryway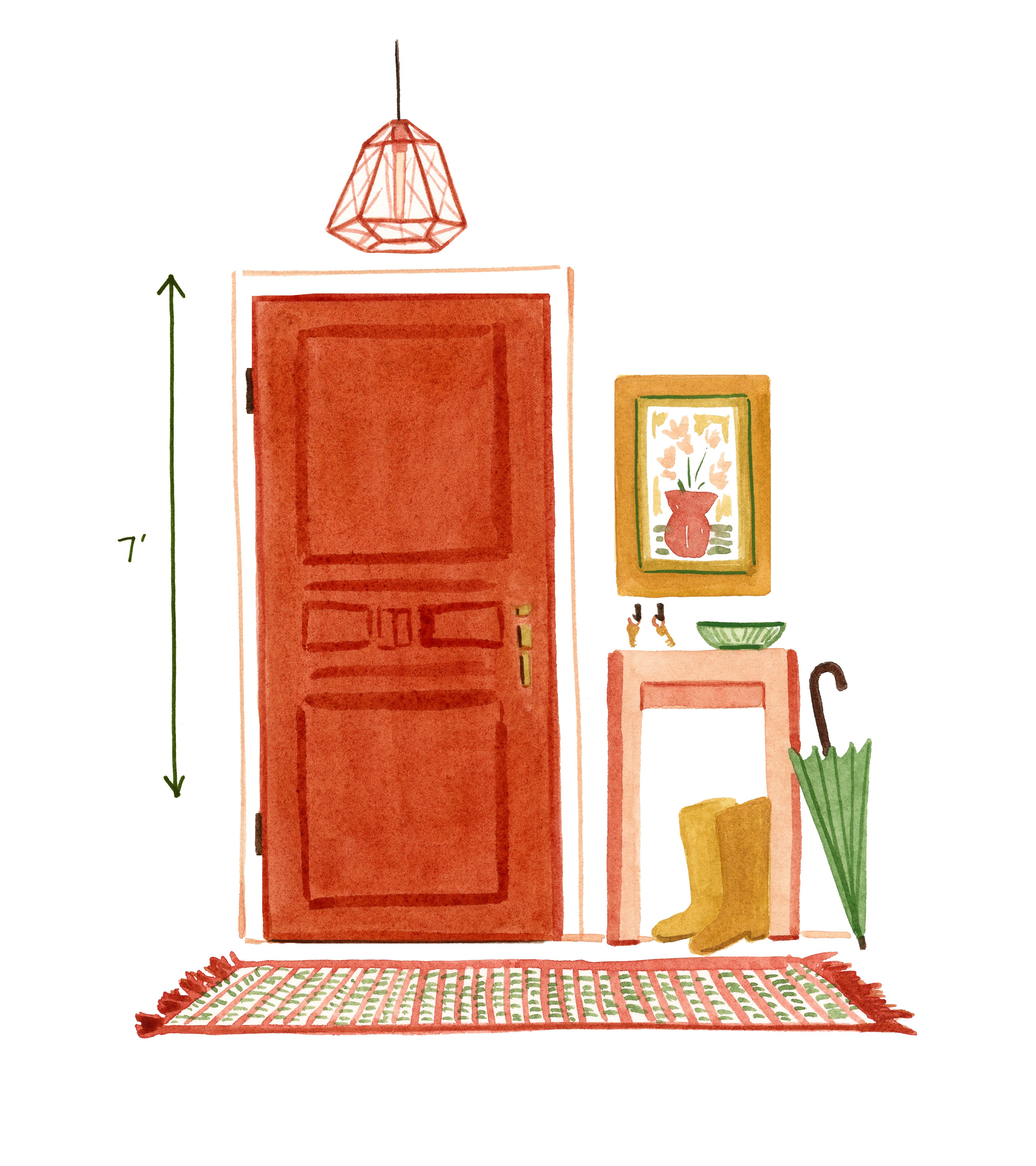 How big should my entryway chandelier be?
If hanging a chandelier in the open, with no table below it, add the rooms length and width in feet to discover the ideal diameter in inches. For example, a 7' x 10' room is best served by a 17" chandelier.
What about a pendant?
Pendants should not hang lower than 7' from the floor.
Hallway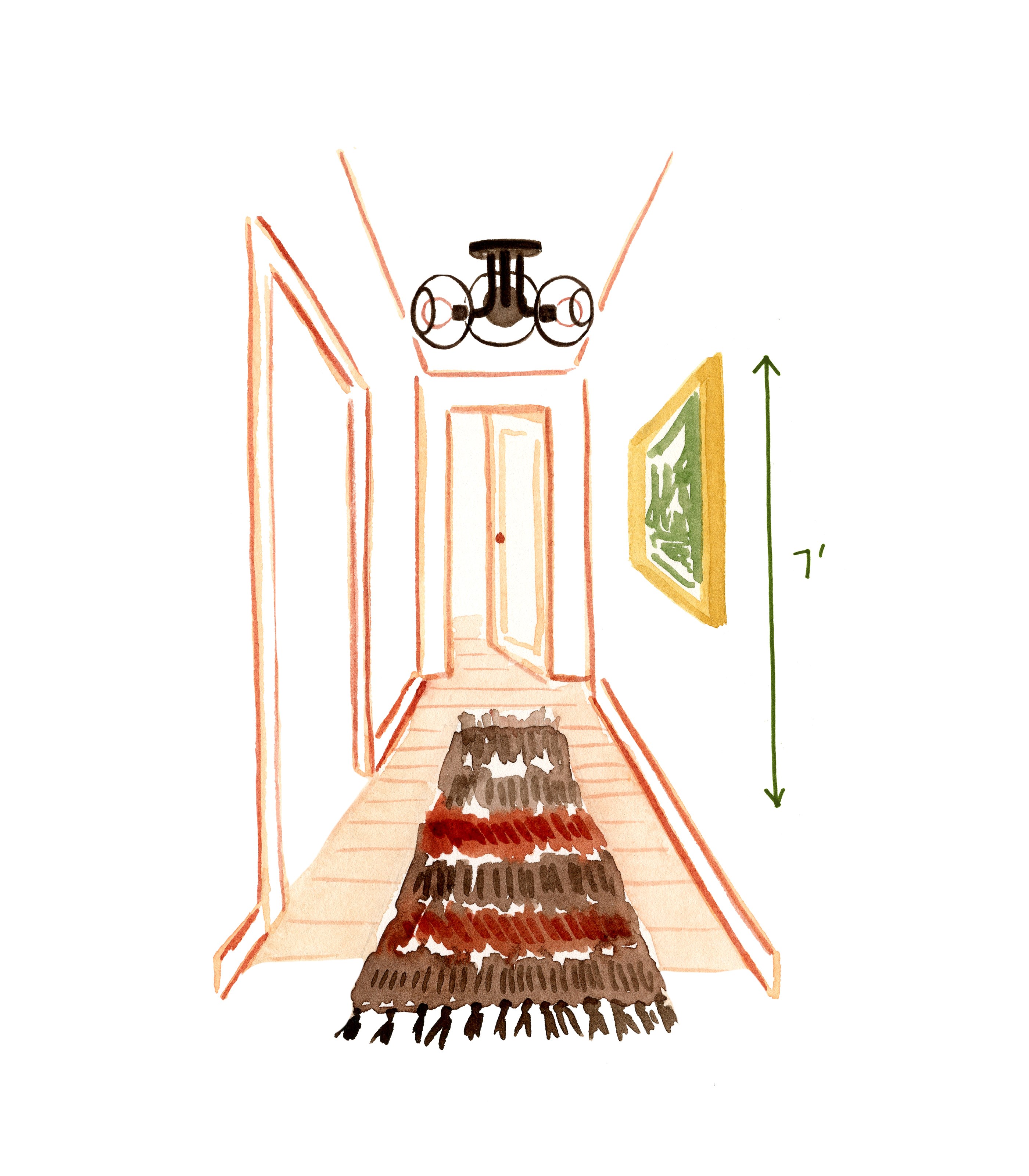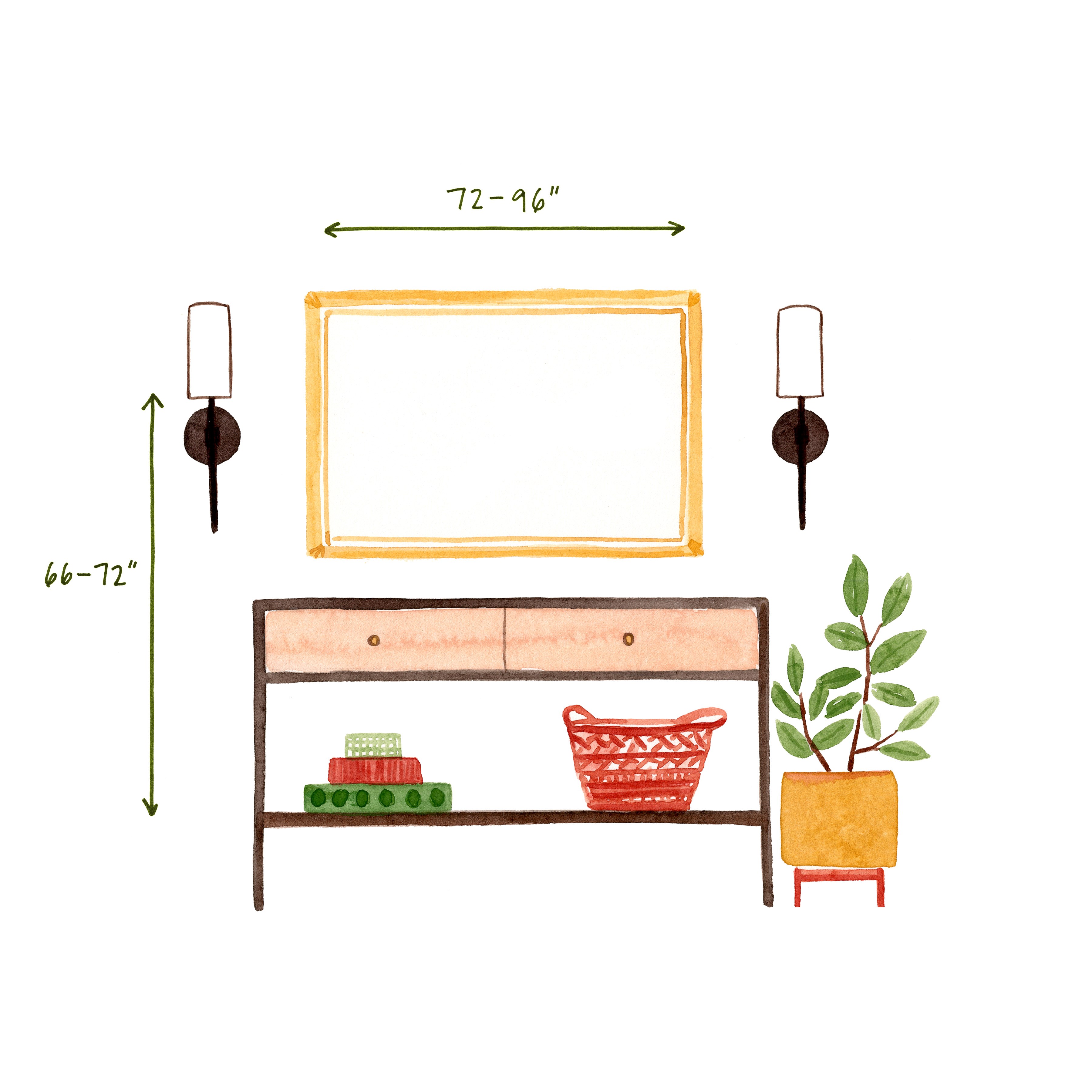 How many pendants do I need in my hallway?
Divide the length of the hallway be 8 and subtract 1 to determine how many pendants to use. One fixture every 8' is the norm. Keep base of pendants 7' above floor.
How many flush mounts do I need in my hallway?
Flush and semi-flush mounts should be placed a minimum of 8' apart and no more than 10'. There should be about 7' between the floor and the bottom of the fixture.
What about sconces in my hallway?
For hallways, sconces should be about 72" - 96" apart.