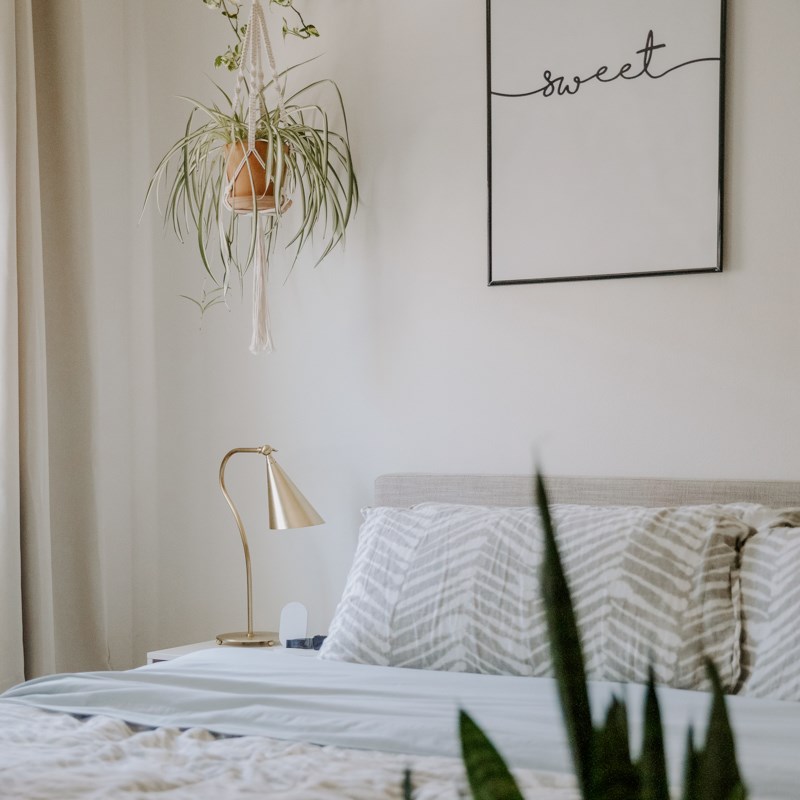 Education
It's Your Space, Own It: Lighting the Bedroom
The bedroom is the one place in your home that is truly yours. No guests traipsing through or space sharing going on here. It's where you rest, relax, recharge and some other "r" words that we probably aren't even thinking of. In short, it's your retreat (hey, there's another "r" word). And just because so much of the time you spend in the bedroom is in the dark doesn't mean the lighting isn't important—there's a reason it's called rise and shine. Lighting in the bedroom isn't just about one and done either—while the plan starts with an overhead light, other types are just as important.
Let's take it from the top with what's overhead. Even in a window-filled bedroom, you still need light after the sun goes down. A ceiling fixture brightens the entire room. It's the first thing you see in the morning and the last thing at night, so make sure you're obsessed. The sky's the limit when it comes to the types of lights that can work on the bedroom ceiling. A chandelier might seem excessive, but is there really such a thing as too much fabulous? You can make it the main focal point of the room or have it fade into the background. A sprawling, polished nickel, clear glass chandelier will stand out when paired with neutral bedding and earthy-colored walls while a more compact, aged brass, frosted glass one will blend right in.
Flush mounts used to be kind of so-so but now they are so, so much more. They are every bit as stylish as chandys and just as diverse as pendants. They come in classic drum shapes and art-inspired modern designs. Go with a semi-flush if you'd like the fixture to hang down just a smidge. Whatever your overhead light of choice, consider putting it on a dimmer to easily take the mood from up and at 'em to nighty night.
It might not seem like you do much in a room where the primary purpose is sleeping, but the bedroom is about more than just shut-eye. Low-hung pendant lights or wall sconces by the bedside not only look chic, they're also real space-savers on the nightstand. An adjustable-arm wall sconce allows you to shine light directly on your book so you can keep right on reading while your partner snores away. If you have a tendency to fall asleep reading in bed (guilty), a plug-in sconce attached to the wall or even mounted directly to the headboard makes sure you can stay under the covers when you turn out the light.
But wait…there's more. A comfy chair in the corner is instantly transformed into a cozy little nook with the addition of a floor lamp or wall sconce. If you're lucky enough to have a window seat in your bedroom, hang a sconce nearby and voilà—reading (or browsing) with a view. A sconce above a full-length mirror or a floor lamp next to one helps you avoid any fashion disasters—two different shoes, anyone?
We can't guarantee that a well-lit bedroom will stop you from hitting snooze three times every morning, but it will definitely brighten your day.
Tips & Tricks
Where do I put my bedside lamps?
Table lamps should be placed so the bottom of the shade sits about 42" off the floor. Always consider the lamp's size in proportion to the piece of furniture it will live on.
What about beside pendants, or sconces?
Hang pendants so that the shade is about even with the side of your head or slightly higher from an upright seated position. Pendants used to replace portable lamps should be hung approximately 42" above the floor. For bedside sconces, between 55-60" of space from floor to top of sconce is ideal. For sconces with a switch or an adjustable arm, keep within arm's reach from a sitting position so you can easily turn it on and off.