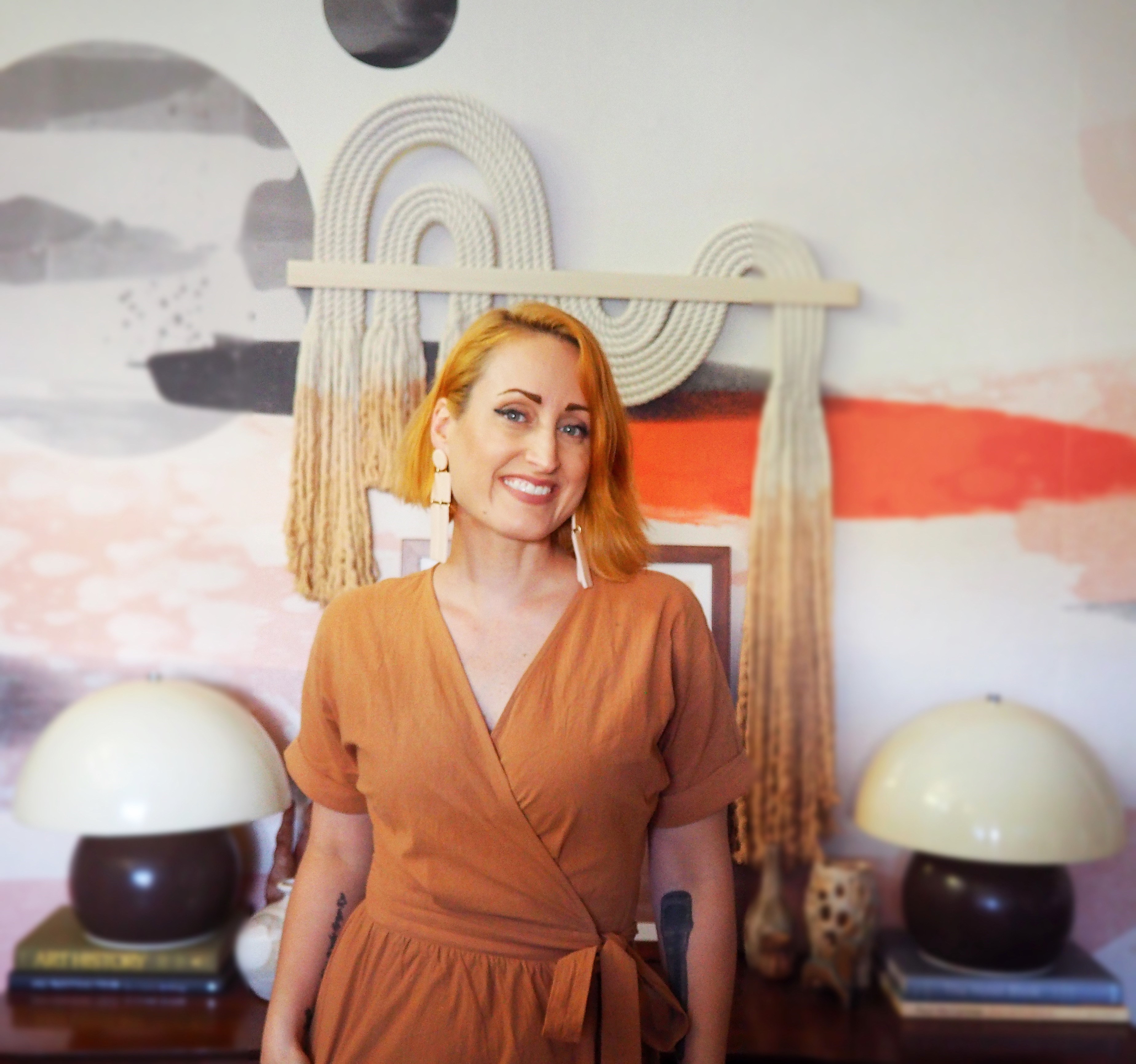 Interview
Get candid with Katie Zamprioli of @candycoloredhome
Tell us a bit about you and your style.

I live in Los Angeles with my husband Mirage, our precocious 6 year old son, Sebastian, and lots of houseplants. Mirage and I are both singer/songwriters and met through our mutual love of music and even used to play in a band together called Mirkat (for Mirage and Katie). I stepped away from music about 3 years ago, falling head over heels for interior design but I do still occasionally record music with my husband in our home studio. Mirage gives me free range of decorating the house as long as he has his off limits recording studio. ?? Thrifting is my favorite pastime! I love the thrill of the hunt and finding quirky and unique pieces. I would describe my style as Retro Boho meets Desert Sunset.

Image Credit:

Renee Flush Mount

| Design: Katie Zamprioli

How do you find inspiration?

I get inspired by so many things! Nature and sunsets and other designers and vintage art and sculptures I find. Sometimes I will design an entire space around one piece that I find, like a chair or a piece of art. Or I know I want to make a space more interesting by adding a wallpaper mural so I will look at tons before making a decision and then change my design based around that.

When did you first know that you were destined to design? Was it something you always knew or was it more spontaneous?

It was definitely spontaneous. I've always loved fashion and decór but it wasn't until we bought our first home that I really felt comfortable to truly create the spaces I desired. We are still so excited to say that we just bought our first home in Sunland-Tujunga in July of 2017! It's midcentury, 1953 and has gorgeous lines and open beams. I've always loved Mid-century Modern style and decór and I started taking pictures of our home pretty much the moment I moved in. At that point, I was just posting on my personal account and I started to gain momentum and get features and people were loving my pics so I decided to take it seriously! I'm a creative person through and through and this was filling that void for me. I started posting every day and became friends with a community of other design lovers and the rest is history!

Was there a particular experience or piece of advice that helped shape the way you think about design?

Be yourself! There are enough people out there doing the same thing in decór and I don't want to be one of them. I want my home to reflect me and my taste and to be inviting and fun. I love color and weird shapes and lots of drama. I have fun in design! It's how I express myself creatively and if you're just following a formula or copying what other people are doing, you won't get to experience the joy of that creative freedom!

What's your favorite room in your house right now?

Our open living/dining/office room is my favorite! It's so light and bright and holds some of my most favorite vintage finds; my Nova of California floor lamp, circular shelving unit and mid-century credenza. It also has the first wallpaper mural I ever did, which happens to be my favorite! It was a risky choice but paid off in a big way!

At what point in the design process do you begin to think about lighting?

Lighting is super important to me. Not only do I love to choose lighting that is interesting, it also affects the mood of the space! The right chandelier, floor lamp or sconce can completely make a space! It's usually a piece that I pick later on in the design process, I look at it like the bow on top! When done properly, it ties the whole space together.

How would you advise readers to think about lighting and how it affects a space?

Lighting adds a lot to a space! I look at it like functional art. We've all had spaces with terrible light fixtures and changing them out is a fast and easy way to update your space. Harsh lighting is a total mood killer. You want a soft glow and a beautiful piece of art that helps your space shine!

Do you have any tips for choosing the right lighting fixture for a space?

For me personally, it's easier if I pick the lighting when the idea of the room is mostly together. The lighting should reflect the feel of the space. You don't want to put a formal crystal chandelier in your boho bedroom for example. Scale is important as well so measure and know the size and length of the pieces you are using and how they will fit in your space.
SHOP KATIE'S PICKS