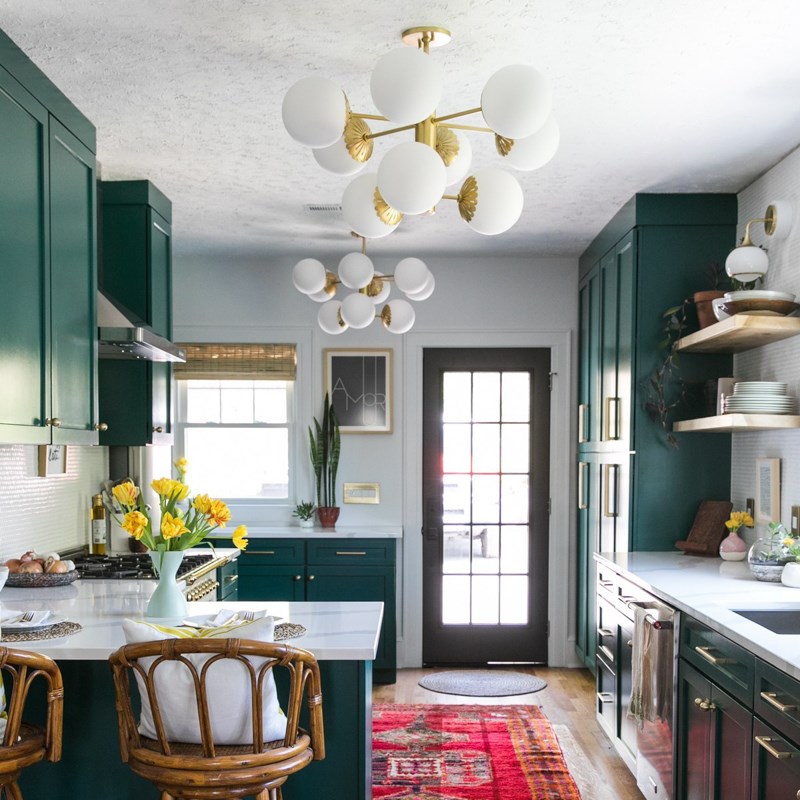 Education
Food for Thought: Lighting the Kitchen
If home is where the heart is, the kitchen is the heart of the home. It's the room where spills happen and where company always seems to spill into. The place where warm chocolate chip cookies add sweetness to a bad day and family-favorite dinners first get their start. A layered lighting plan (read more about that here [link to layered lighting post]) is the recipe for success when brightening up this hub of the home. A heap of ambient, a dash of task and a pinch of accent are the perfect ingredients to creating a kitchen that is both functional and fabulous.
Track or can lights in the ceiling used to be the go-to for ambient or overhead lighting in the kitchen. Now, we have more choices than ever to infuse style and personality into our homes. A chandelier in the kitchen makes a statement and adds beauty from above. A well-placed pair of matchy semi-flush mounts or even some bright pendants can have the same effect.
Make culinary chores a breeze with task lighting. Meal prep is a breeze with a series of pendants or a linear fixture over the island. A sconce or single pendant above the sink takes the dirty work out of washing dishes. Not ready to commit to an entire kitchen remodel just yet? A fresh set of pendants can go a long way to satisfying your taste for change.
Accent lighting highlights those little details that make your kitchen your kitchen. The framed, handwritten copy of your grandmother's recipe that gives you all the feels? Place a small art & shelf light over it. Flank some sconces above those open shelves that make you swoon. When it comes to accent lighting there's just one rule…if you love it, light it.
Tips & Tricks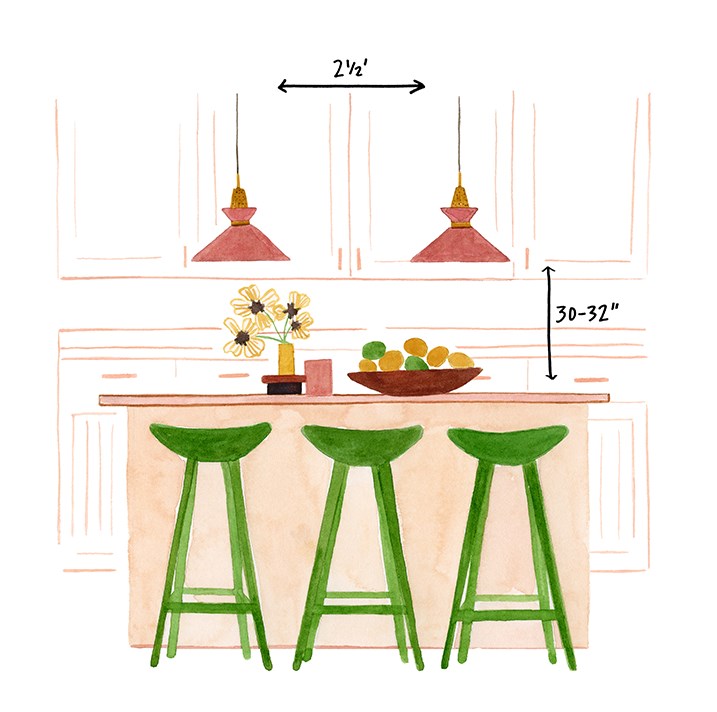 How high and how far apart should I hang my island pendants?
Leave about 30–32" from the island countertop to the bottom of your fixture, and space each pendant about 2.5-feet apart.
How much light does my island need?
Anywhere from 35 to 50 lumens per square foot of island.
So, for a 15-square-foot island, you'll need somewhere between 535 - 750 lumens. A 60-watt bulb produces about 540 lumens. Meaning you would want 1-2 lights above your island with 60-watt bulbs each.
What if I want to use a linear light?
For linear island lights, go with a fixture with a length that does not exceed ²/³ of the island. For a very long island, consider two linear lights if your electrical situation allows it.