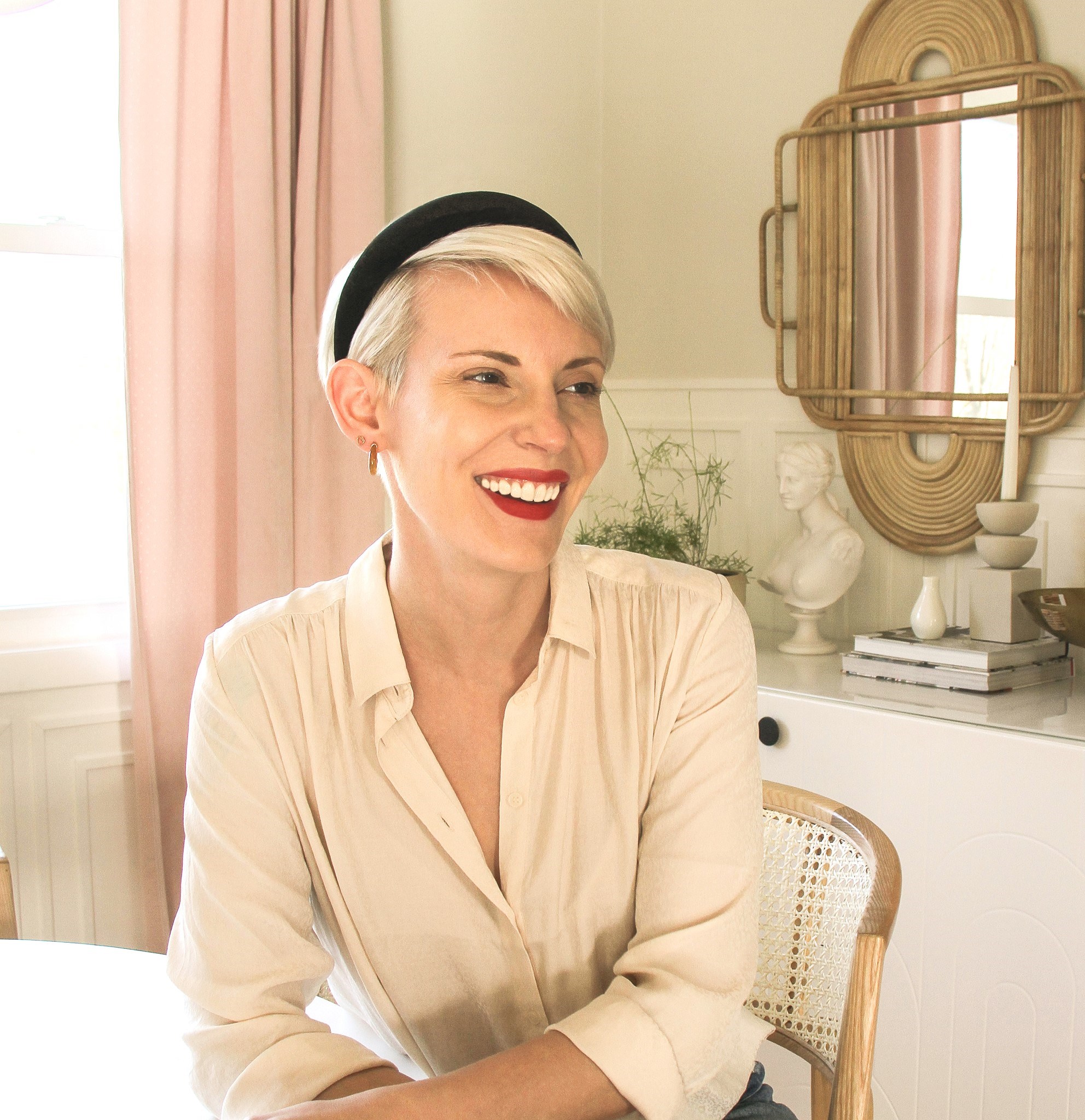 Interview
Brit Arnesen x Mitzi Q&A
Design Wisdom From Brit Arnesen of @britdotdesign
Tell us a bit about you and your style.

My style has evolved so much over the past few years! I've always loved early 20th century architecture and design, so that's a big influence. On the other hand, I'm very into the bold shapes and patterns and the colors (specifically the pastels, although cobalt is really growing on me) used in Memphis design. I'm also very into natural, varied textures; mixing old with new; and using high and low decor. So I'm not sure what you'd call that! Maybe Art Deco-inspired organic modern?

Image Credit: Estee Chandelier Design: Brit Arnesen. Photography: Wendy Swanson.

How do you find inspiration?

The usual suspects: design blogs and books, catalogues, Instagram, Pinterest—you name it!

When did you first know that you were destined to design? Was it something you always knew or was it more spontaneous?

When I was little, I was constantly rearranging my room. I loved decorating and appreciated beautifully designed spaces at a very young age. I guess I've always been pretty artistic and creative. Initially, I wanted to be an architect, which is along the same vein, but I ended up majoring in history. I then applied to grad school for interior design about fifteen years ago, but decided not to go and moved to LA instead. I only really started thinking about design again when we bought and began renovating our home about five years ago.

Was there a particular experience or piece of advice that helped shape the way you think about design?

A friend who's an interior designer once told me that less is always more and that was really helpful. I have a tendency to go overboard with everything, so I always remind myself of that when I'm working on a project. I also heard something about perfection that's stuck with me—that it isn't achieved when there's nothing left to add, but nothing left to take away. I can't remember who said it, but how perfect is that?

What's your favorite room in your house right now?

For sure my kitchen!

Image Credit: Milo Pendant & Ellis Flush Mount Design: Brit Arnesen. Photography: Wendy Swanson.

At what point in the design process do you begin to think about lighting?

It's always one of the first things I think about! Lighting really sets the mood for a space, so it's important to consider the vibe you're going for, the location, and the intended use right away. Plus, it's permanent (for most people, that is), so it's good to get it right the first time.

How would you advise readers to think about lighting and how it affects a space?

I always try to think about how the room will be used and where the furniture will be positioned. Then I create different layers of light from there.

Image Credit: Abigail Pendant Design: Brit Arnesen.

Do you have any tips for choosing the right lighting fixture for a space?

As I mentioned previously, I always think about location and intended use first. It's also important to consider the size of the space. Choosing a light that's a bit big for the room can make a statement (e.g., the six-light Paige Chandelier in my little bedroom), but I'd never want to pick a light that's too small. Like, imagine a boob light in the center of a large living room. Enough said.
SHOP BRIT'S PICKS